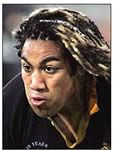 In news that has
been
picked
up
around
the
world
, All Black and Wellington rugby centre Ma'a Nonu has confessed to wearing eye-liner while playing. There's a bit of controversy as to whether or not Ma'a has been wearing the make-up as some sort of in-team punishment, or purely as a fashion statement that sets him apart from the other dreadlocked Polynesian players in the team (Tana Umaga, Rodney So'oialo). From what Ma'a says, you'd think the latter...
"When I first started playing at this level I had dreads, the same as Tana and Rodney. I tried a different look by colouring it. Then last year everyone was colouring their hair as well. I'm just trying to bring a different thing in by colouring my eyes, I think.

It's a personal thing, I put it on myself. It's a bit of a fashion statement, I think. Everyone's giving me grief, especially my best mates. I'm just going to stand by what I think and keep on doing it. And hopefully other players will try it as well."
Go Ma'a! And yes, I reckon Dan Carter should join the make-up club - a spot of eyeliner and some nice lipstick would make his fine features even more spectacular.
I'm also amazed no-one in the media has raised the possibility that Ma'a might possibly have been raised as a fa'afafine, but, well, that might be a step too far, methinks. What next - a gay All Black?