Bertel and I had two 'must-do's' on our visit to Memphis: the Reverend Al Green's Sunday Service (Bertel's choice) and Graceland (mine). We must have driven up and down the streets of 'Soulsville' in the south of Memphis a dozen times looking for the church, but it completely eluded us. We did have
accurate directions
to the
Stax Museum of American Soul Music
, so we traded a 'must-do' for a 'may-as-well' and visited there, instead. Which, it turns out, was a great move. The museum was inspiring, educational, fun - an information resource that the unemployed librarian within me could really admire. As such, it was the complete opposite of the Graceland experience we were to have later that day...
The lines at
Graceland
were mercifully short; being a Sunday, we figured everyone was still at church. The operation ran with a scary efficiency - the level to which I was photographed (they said for a momento but I'm not so sure), instructed, prodded and directed made me feel a little like I was back at library school: a lot of rules and no time to learn them in.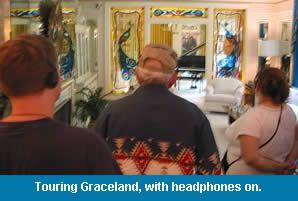 It's hard to offer a summary of the Graceland experience. Bertel seemed to be enjoying it on some sort of musical level, but I, however, was constantly taken aback with the evidence that with ridiculous wealth one does not necessarily come excellent taste. I suppose most people familiar with the Elvis's latter years know this of course, but to be confronted with it on such a gigantic level was overwhelming. The 'best' part was the racquetball court, with the glass entombed examples of Elvis's 70s and therefore 'fat' sequined clothing.
"Man, this guy was a dandy!" exclaimed Bertel, bringing forth some of scowls from one or two of our tour-group who obviously had a higher opinion of Elvis's sartorial sense.
In fact, those scowls were about the sum level of interaction with our fellow Elvis pilgrims. Although Bertel and I chatted about the exhibits as we wandered around, and other couples whispered the occasional comment to one another, there was next to no intermingling with anyone else in the group. Everyone was listening to the same audio tour via headphones, so we were cut off from each other, but hearing the same thing.
(As an aside, this is something I've seen more and more of while here in the USA. The other day I saw a young couple, walking down the street, hand in hand, both listening to iPods, and both txting on their cellphones with their free hand. Mad.)
Together Alone
, as NZ's most famous songsmith once wrote.
Having done our sight-seeing duties, we drove to a restaurant, and encountered some 'authentic' American culture. American English (and, it has to be said, Scandanavian English), continues to surprise me with some brilliant turns-of-phrase. Having made our orders, our waitress sprung this on us...
"Y'all want to a la mode that?"
"Do I?" I asked.
"Do you?"
"A la mode it?"
"Yes. You know. A scoop of icecream on the side."
"Ohh, yes, please."
I think "to a la mode it" is one of the best verbs I've ever heard. Even now, a couple of weeks later, we're still getting mileage out of it.
Anyway, with our vocabularies suitably enriched by our Memphis stop-over, we headed out-of-town for Chicago, and a whole new series of adventures.